A clean, contemporary, and modern rehab transformation
For more than 20 years, Dee Thompson spent her career as an executive IT project manager where she managed the complex systems of multi-billion-dollar institutions.  Midway into her career, she went to buy her first Chicago home and not only found the cost of entry high, but she also was not finding homes that were a perfect fit for her tastes.  "Everything needed to be updated," said Dee. So, her realtor suggested that she buy a fixer-upper and put her project management skills to the test.
"It was nothing like IT," said Dee, now the owner and chief construction office of Urbane Home. But she was determined to use her strong IT skills to bring organization and discipline to her construction challenge and developed a detailed project plan like she would do for all her IT clients with all the tasks, dependencies, durations, and resources included. "I made my fair share of mistakes because I didn't know what I didn't know," she added. "I tweaked the plan based on new knowledge as I went along and over time, perfected the process to maximize efficiency."
After a couple of years, she couldn't ignore the "rehab bug." She sought out in search for the worst property on the best block and renovated it with extreme detail.  Over the years, she kept improving, and what would have taken other contractors 12 to 14 months to renovate, she managed to streamline the process down to five to seven months. Then people began to ask if she would build for them. "I always said no, and I only do this for myself," Dee added. 
When she was pregnant with her first child, a daughter, now eight years old, she thought to herself this was a perfect crossroads to reevaluate her career.  She got her real estate license and threw a bid out for a teardown. "If I got the house, I knew it would be a sign, and I can test this out," she said. "If not, I loved my IT career and would stay the course."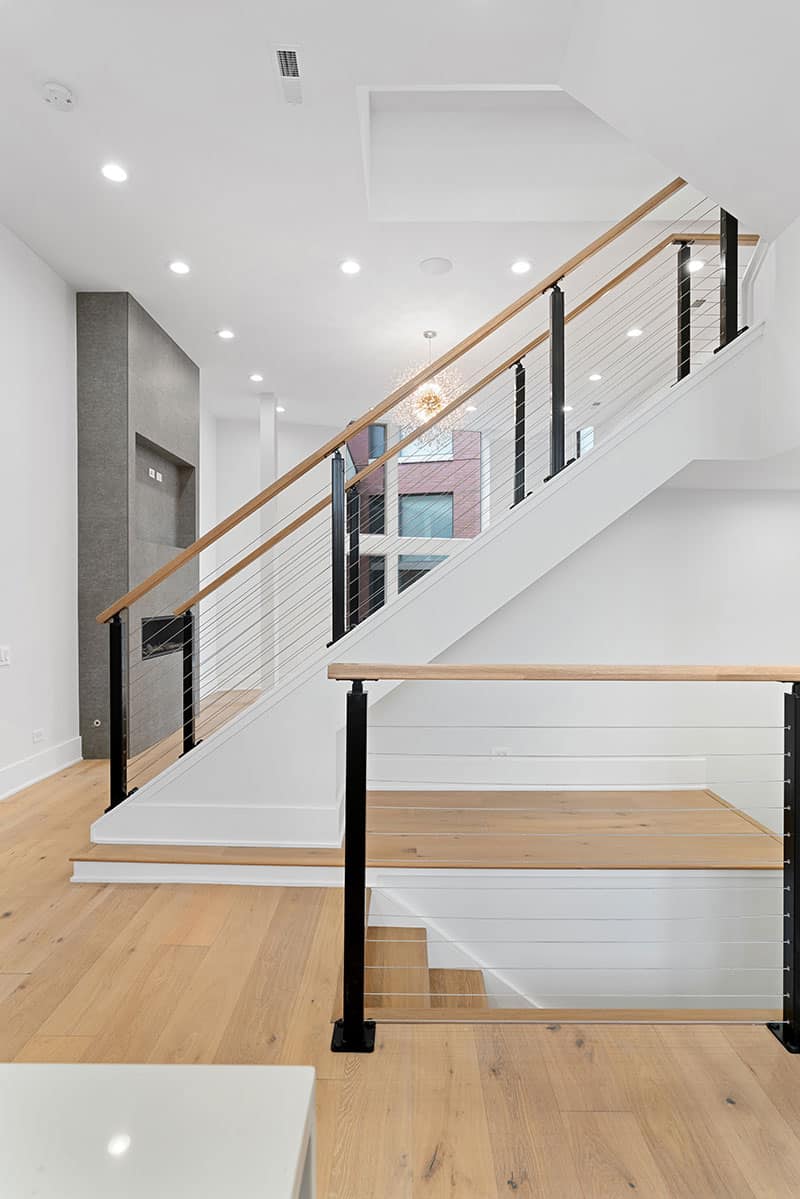 That was eight years ago. Dee formed an LLC, Urbane Home, and she would build one to two spec homes per year and sell. Taking extreme pride not to ignore the details, her homes would sell pre-construction or within 30 days on the market and often close to or above asking price.  Today, Dee has a team of four colleagues which includes designers, brokers, and a marketing coordinator. Dee is the chief construction officer and manages any engagements that are permit-related, from gut rehabs to new construction.
One of Dee's recent projects involved one of her best friends, who had just gotten married.  Each of them had a Chicago home and she lost the dice roll and moved into her new husband's place, in what she called the "bachelor pad". The townhome, located in the prestigious area of the West Loop of Chicago, was purchased more than 20 years ago, and in today's real estate market, it is impossible to reproduce the square footage for anything under $1.5 million.
"We gutted the entire place and maximized the home to improve the overall flow and make everything new, new, new," said Dee.
Within seven months, the 4,000-square-foot home was transformed into a clean, contemporary, and modern home that is like nothing in the market for the overall cost of investment. "We wanted the space to be timeless and not too edgy and we definitely achieved that," said Dee.
The overall aesthetic that Urbane Home used in their design was silvered grey wood and black, grey and whites for clean polish. The tones are truly neutral with a bit of color in the right places and rich tones. To complete the contemporary look, Dee's supplier, Standard Lumber Co., recommended a cable railing for the interior staircases that aligned with the client's inspiration.
"It was visually what our client wanted," said Dee. "It removed the heaviness of closed-in stairs and allowed an open sightline. We chose the RailFX aluminum railing in black finish with stainless steel cable infill installed throughout."
"It was our carpenters' first-time using cable railing, and the RailFX customer service team was not only incredibly responsive when we called but also went above and beyond to meet us onsite to walk through any product questions we had to ensure the best install," said Dee.