Your indoor stairway design can create a big impact on your home's overall style.  When homeowners choose an indoor cable railing project to define their stairway's design, the results are always impressive.
Not only is cable railing designed to be safe and low maintenance, it can also enhance any residential or commercial project. Here's our favorite indoor stairway design using cable railing, featuring high-performing stainless steel and aluminum railing for optimized style and effective protection.
Highlight Your Home With Cable Railing
Stairways are often one of the first things people see when they open the front door.
"Although it's not necessarily the focal point of your home, or the place where you spend the most time, it's still a very important area," states Country Living. Homeowners that are looking for ways to create a visual impact with their interior design should invest attention in their staircase.on 
This homeowner was able to create a stunning first impression by featuring large pieces of art on both the main and second floors, along with plenty of windows in the entryway. The home's stairway design beautifully helps direct attention toward the impressive paintings.
The featured cable railing systems are easily adaptable to any kind of project, whether it's an interior stairway or exterior deck. And because of the open design of the railing, your home feels larger, thanks to the unobstructed views. The cable railing helps to achieve this impressive open style in the home, but it delivers more than aesthetic benefits.
Because the home's design allows for more natural light and outdoor views, the homeowners will receive multiple health benefits including increased vitamin D, higher productivity levels, better sleep and more.
Give Authentic Design Room to Shine
The home's second floor design is just as stunning as the main floor; the homeowner included more bold visual art in the stairway landing space to showcase their personal taste and give it a more finished look.
"One of the most difficult things to do with a room is to define it with an overall aesthetic that ties the space and its furnishings together. Large abstract paintings are perfect for this goal since they can be interacted with according to their aesthetic values," according to IdeelArt.
"Formal artistic elements within a painting such as line, color, texture, shape and pattern, can set the tone, so to speak, for an overall design by creating a visual language for the room", Ideel Art continues. Because this large black-and-white piece is the focus of the space, other design elements in the room follow its visual direction.
By using the featured cable railing design on their indoor cable railing project, the look is enhanced even further. Everyone in the home can enjoy unobstructed views of the art, the landing area and the openness of the entire space, whether they are on the first or second floor.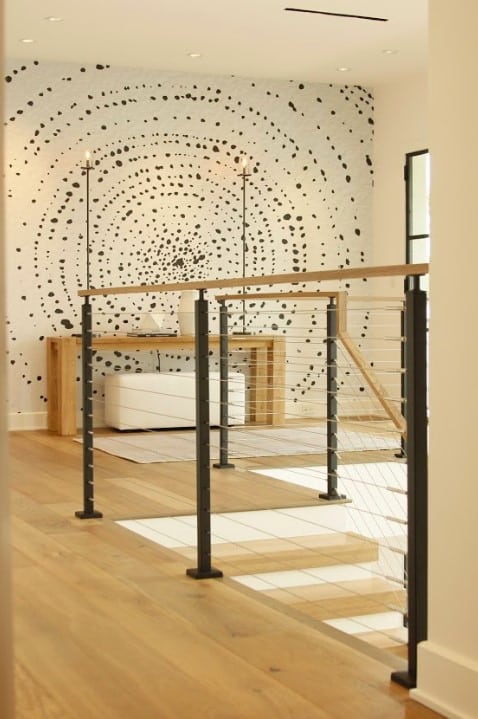 Modern Design With Integrity
Even though the cable railing design here is minimal, the RailFX® fittings and cable products used come with strength and structural integrity guaranteed. All of the fittings and cables are tested to durability requirements. The railing systems work in indoor and outdoor projects, and in both residential and commercial applications.
The featured cable and railing fittings are available as part of the FlexFX program, so homeowners can create any indoor cable railing project design (with wood, metal, or sleeved end posts) along with FlexFX stainless steel fittings and cable to fit their personal style.
The cable can be cut and instered into the hardware on-site easily and the fittings screw into the posts. Plus, FlexFX features our exclusive Push-Lock® fittings which do not require any special tools for installation. Simply push the cable into the fitting and it locks.
The kits come with hardware fittings for both ends of the cable run, all fasteners necessary, your choice of cable and installation instructions. Some kits also come with the option of purchasing an accompanying tool kit.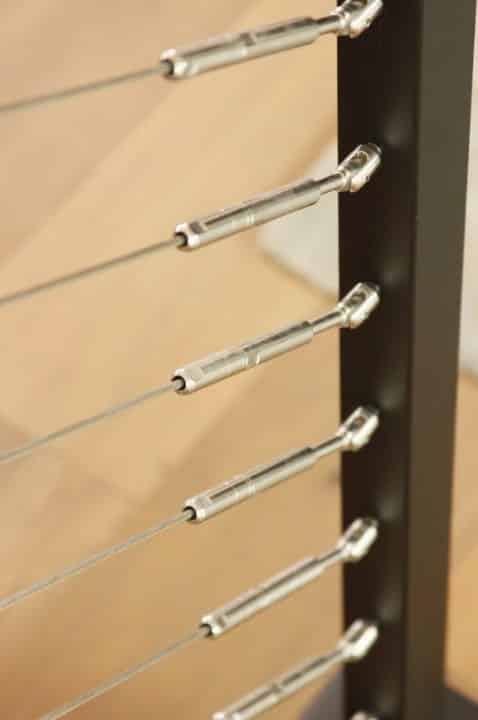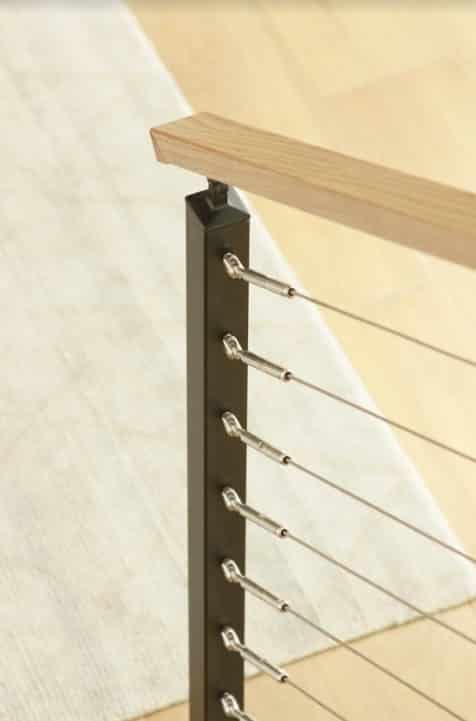 Solutions for Your Indoor Cable Railing Project Stairway Design
"In a sense a stair is one of the most important pieces of architecture in a home," writes architect Bud Dietrich for Houzz. Stairways are a focal point in many interior designs and are frequently used to capture life's big moments (like prom or wedding pictures).
"And as a day-to-day utilitarian item, a stair is a wonderful way to choreograph movement through a home," writes Bud. "It's no wonder that architects and designers spend so much time designing stairs, and that true craftspeople build stairs that are absolute joys."
When homeowners choose a cable railing system in their stairway design, the possibilities (and solutions) are limitless. Using RailFX® cable railing products helps homeowners achieve open design, long-lasting style and structural integrity in their project.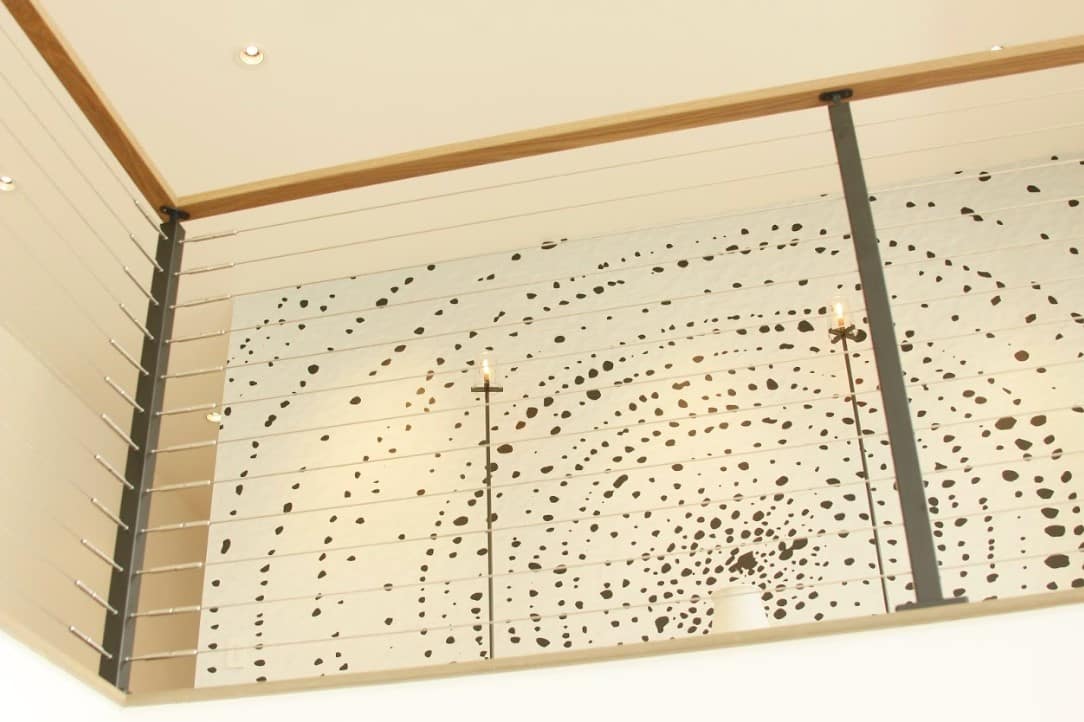 By working with RailFX, you get the highest quality aluminum railing systems, stainless steel fittings and stainless steel cables; all of which work together to create a stunning stairway design. You can contact us with questions about your next project, and get a quote on your job within 48 hours.