Today's homeowners want to keep their spaces beautiful and maintenance-free, using durable and design-friendly materials. RailFX® engineers' number one goal when designing products is how quick and easy it is to install. Our FlexFX cable railing solution is ideal for a quick-turn product that makes your vision a reality for outdoor living and interior functional spaces.
Cable railing checks all the boxes – it delivers an unobstructed view and classic aesthetic while requiring minimal upkeep and a long lifespan. Cable railing is the perfect choice for professionals with the goal of exceeding client expectations.
FlexFX Installation Simplified
Often, homeowner design choices translate to complex and time-consuming installations for the pro. The RailFX team understands that while satisfying your client is a top priority, extra time spent on a project can impact the opportunity to take on another.
With the pro installer in mind, our engineering and product development teams went to work to create an easier-to-install line of fittings. The result: The FlexFX product line.
FlexFX is a line of surface mount fittings that couples with a spool of cable available in 100- and 500-feet— allowing you to customize and build the cable railing solution needed to complete any job— whether it's a new build or updating an existing railing.
To determine the fitting options you'll need for your projects, follow these simple steps.
Determine the post material where the stainless-steel cable will be installed.
Measure your level and stair runs to calculate the number of fittings you will need.
Add up the tensioners and non-tensioners.*
Calculate total cable footage — plus 5 percent.
*Railings measuring 36-inches need ten fittings on each end for level runs and nine fittings on each end for the stair. Railings measuring 42-inches need 12 fittings on each end for level runs and 11 fittings on each end for the stair.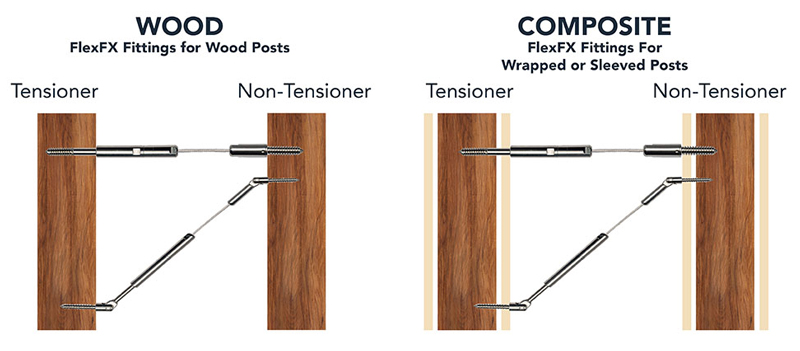 FlexFX uses the RailFX proprietary Push-Lock® fittings featuring a locking wedge system that securely holds the cable, making for a quick and simple FlexFX installation that requires no crimping or special tools. The Push-Lock fitting works seamlessly with any post material including, wood, metal, composite sleeve posts, and single and double-corner posts.
Keep in mind that FlexFX is not just for exterior projects like decks and docks. FlexFX stainless-steel fittings are also well-suited for finishing interior balconies and stairways. The only requirement? Each cable run must have one tensioning fitting on the end.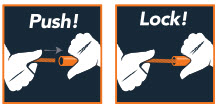 The End Result
FlexFX is a win-win for everyone. Homeowners are thrilled with the result: a low-maintenance product that offers enhanced open views, creating a space that feels bigger. The win for the pro? With FlexFX fittings, deck professionals and other contractors can complete each cable railing job more efficiently, enabling them to save time and take on more projects. And what does more time for projects mean? More happy homeowners are enjoying their view.