Wanting easy railing projects? When you're looking to upgrade your home's railings, there are many variables to consider:
Design and aesthetics
Cost-effectiveness
Long-term maintenance
Ease of installation
If you've spent any time researching options, you've realized cable railings are a popular option for many homeowners, offering an attractive option for both interior and exterior locations.
When renovating your home, you want a brand you can trust. RailFX offers one of the most beautiful and innovative designs on the market to conceal hardware for a seamless look. What's more, the outstanding durability of the materials means you can rely on RailFX to last, without needing extensive long-term maintenance. 
Best of all, RailFX's easy-to-install systems make it a breeze to complete your easy railing projects. In this article, we'll walk you through everything you need to know when ordering and installing RailFX cable railings.
Ordering Your RailFX System
Making Sure RailFX Is Right for Your Easy Railing Project
Before you begin, you'll want to make sure RailFX is right for you.
RailFX is a highly adaptable system, designed to be used with a wide range of house types. Constructed using high-strength, 6000-series aluminum, RailFX systems are durable and usable in both exterior and interior projects.
If you're looking for a complete solution, RailFX kits include pre-drilled posts, cable and all the fittings needed. Each kit provides everything you need for one row of cable up to 70' long. Simply count your rows, and then order that many kits.
If you're working with existing posts, and have experience cutting cable on-site, FlexFX provides you with all the fittings you need. Mix and match from a wide range of fittings, and receive cable by the reel, providing the most versatility for your project.
Designing Your System
RailFX is a customizable system, which means you can achieve the look and results you want. Here are some of your design options:
Cable Options
When picking your system, you can choose from our Professional or Basic series cable.
The Professional 224 series cable is flush mounted for a seamless design. This homeowner friendly option is easy to maintain and can be re-tensioned using an Allen key.
The Basic 102 series cable offers great value for money, with caps to cover the brass locknut.
Top Rail Options
The top rail covers posts and miter corners. With RailFX, you can choose from four different top rails to fit your needs:
Round Top Rail: A classic look, which allows for decorative post caps.
Flat Top Rail: Provides a smooth surface, perfect for holding a drink on your porch or deck.
Elliptical Top Rail: Most often used with stairs to provide a handrail.
Rail for Wood Top: A rail top designed for you to attach a wood board (not included) to complete your look.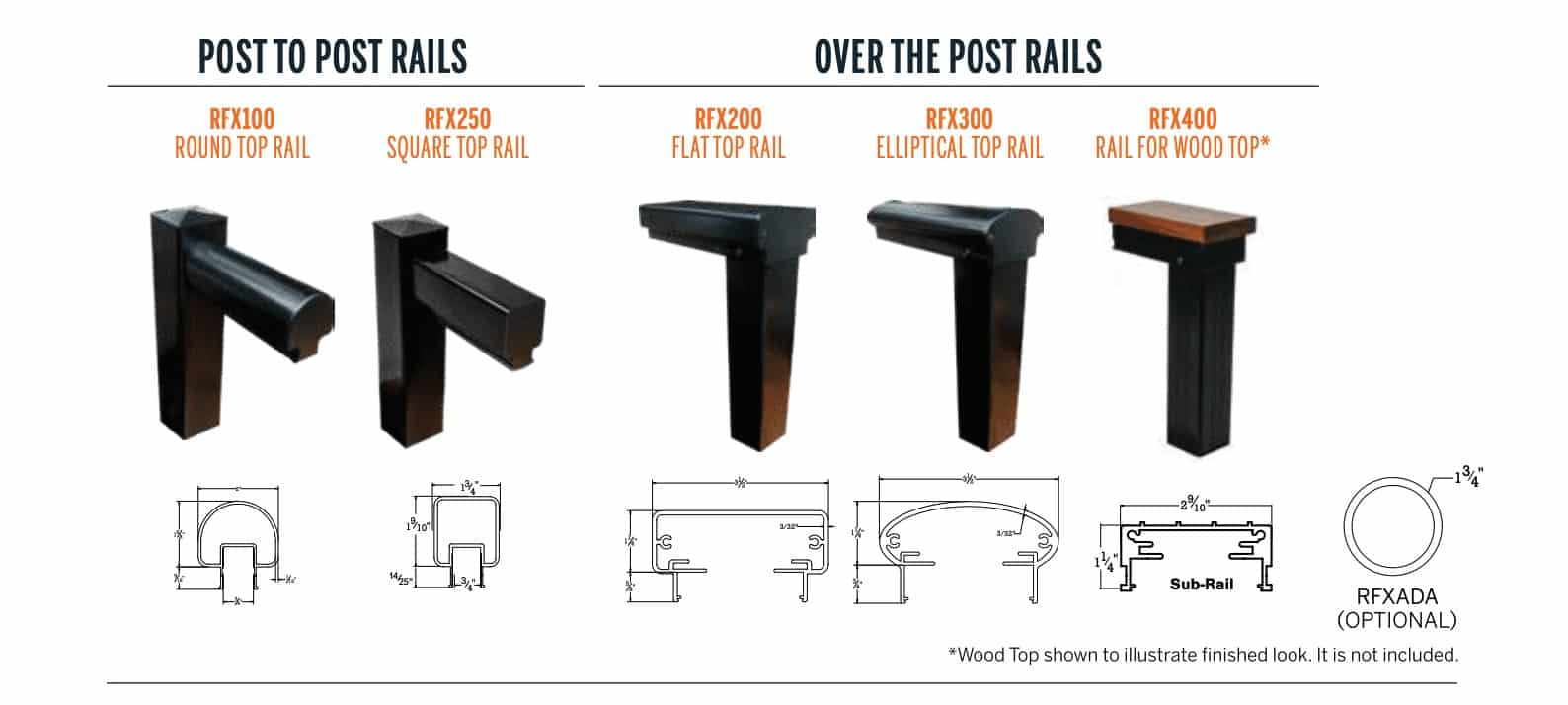 Post Mounting Options
The RailFX system offers a number of choices for mounting your posts to the desired material during installation:
Surface Mount: Attach posts directly to the deck, patio, floor or stair tread. This is the most common RailFX mount.
Fascia Mount: Side mount posts to deck fascia or rim joist board using a bracket when decking or flashing extend beyond fascia board.
Flush Mount: Similar to a fascia mount, but the post is side-mounted without the use of a bracket when no deck boards or flashing overhang the fascia board.
Core Mount: The post is set in a hole in concrete and grouted in place.
Color Options
RailFX offers 4 stock colors: black, white, bronze and silver. Want a specific color? No problem — a full range of custom colors is available at additional cost.
Getting a Quote
When you're ready to get started, RailFX's online quote tool will walk you through the process.
You'll need the following information:
Your choice of handrail
Whether the project includes stairs (and if yes, whether you want railings on just one side or both)
The mounting surface (wood, composite, concrete or other)
Height (36", 42" or custom)
Your choice of mount
A simple drawing with measurements for your project
And if there's anything you're not sure about you can always reach out directly to RailFX's customer support team.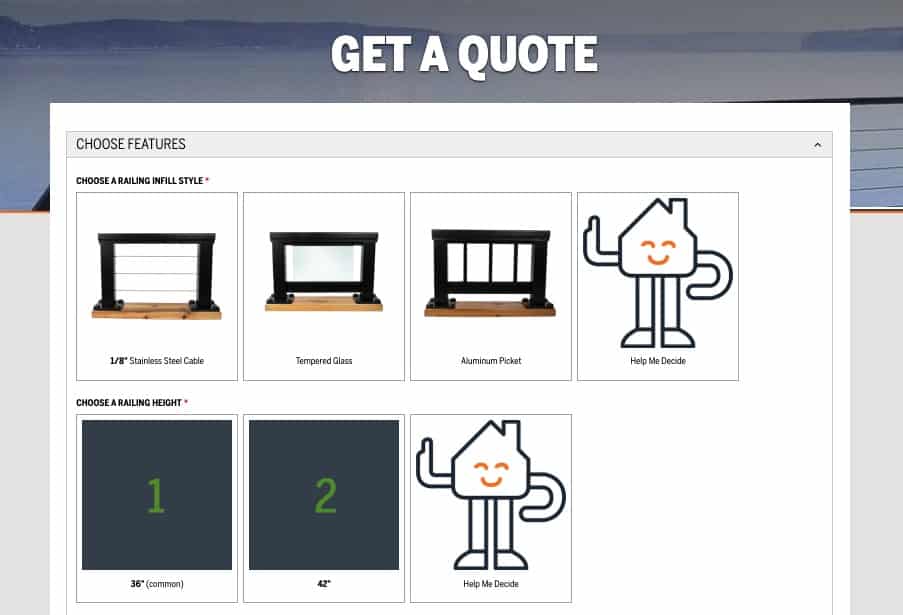 Installing RailFX
The RailFX system is designed to be installed in one of two ways: either the basic way with a threaded stud or the professional way with our patented Pull-Lock® Technology which makes installation fast and easy.
When your RailFX shipment arrives, you'll find all fasteners and cables right in the box. Posts come pre-drilled for cable-fittings, and the fixtures are designed to be concealed so your view isn't compromised.
Following the instructions, RailFX makes it easy to install by yourself. Installation requires common tools that you'll either already have on hand, or that can be easily purchased from RailFX for select kits and FlexFX fittings.
If you run into trouble, RailFX provides customer support that goes above and beyond. You'll connect with real people, dedicated to solving your problem, whether that's connecting you with expert installers or sending you replacement parts.
Maintaining Your RailFX System
One of the benefits of RailFX Cable Systems is the low-level of maintenance required for upkeep. No complicated tools or expensive materials required!
For regular maintenance, inspect fasteners and attachments once a year to see if any have loosened and need adjusting. Over time, fasteners will discolor, but this doesn't affect the integrity or strength of fasteners.
Clean your RailFX system at least once per year to keep it free from pollen, pollutants, oxidation, etc. If your installation is in an area with a high concentration of salts or pollutants, you may find you want to clean more regularly. You can wash materials using a mild, non-abrasive soap and water solution, and then rinse with fresh water.
However, it's important not to use bleach-based products, especially on steel hardware or cable. It can cause discoloration and rust. Click here to learn more about RailFX Cleaning and Maintenance.
Ready to Get Started?
RailFX understands when you're ready to begin a project, waiting weeks to receive an order can be frustrating. That's why RailFX commits to a fast lead-time. Obtain your free quote today, and RailFX will contact you within 48-hours. Once you've decided to place your order, materials will ship within 3-7 days. Lean on Us.