If you're building your dream home near the ocean, of course, you want to be able to enjoy the view.  A deck is a great way to extend your living space to enjoy after a full day of boating or to entertain guests on.
A great deck balances function, aesthetics and safety. You want something that looks great, but local building codes will also have railing requirements to keep yourself and your visitors safe.
Unfortunately, a traditional wooden picket railing isn't a great option when it comes to enjoying your view. What's the point in facing the ocean if you can't see past your railing?
Cable Railings Balance Safety and Aesthetics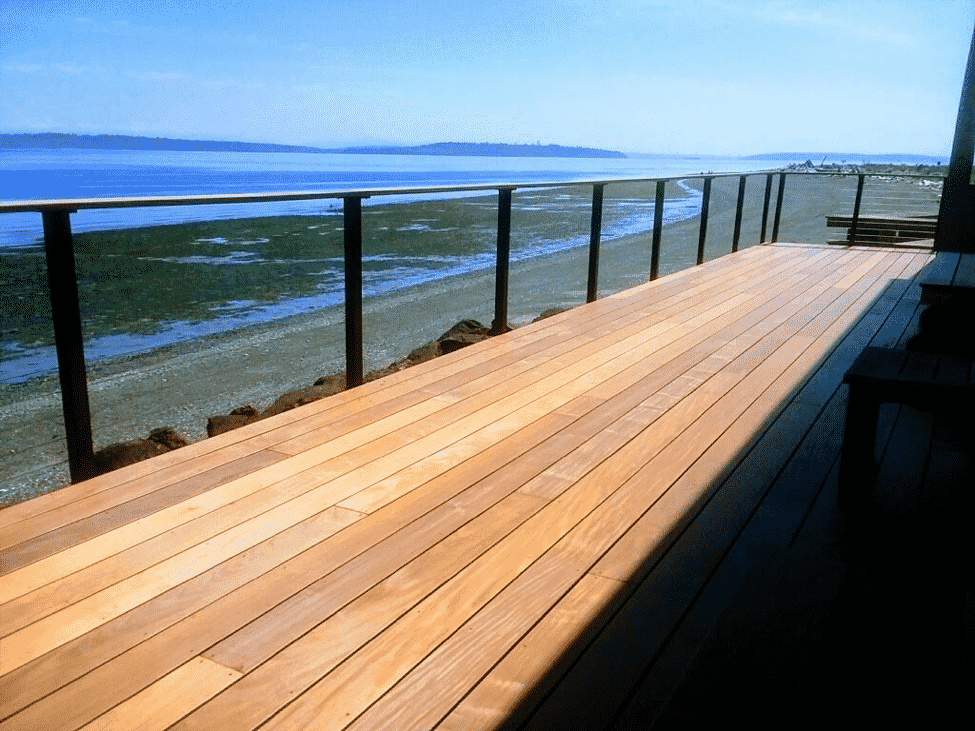 For a long time, glass panels were the only option to protect people from injury and not interrupt the view. This transparent option is great at first, but over time, glass will stain and weather in the salt air.  Additionally, what was once crystal clear becomes hazy, even with regular maintenance.
Cable railings balance a homeowner's quest between safety and aesthetics. Stainless steel cables suspended between aluminum, wood or composite sleeved posts provide little visual disruption. They also meet building code requirements and provide a long-lasting solution for homeowners striving for a timeless look.
Choosing the Right Cable Railing System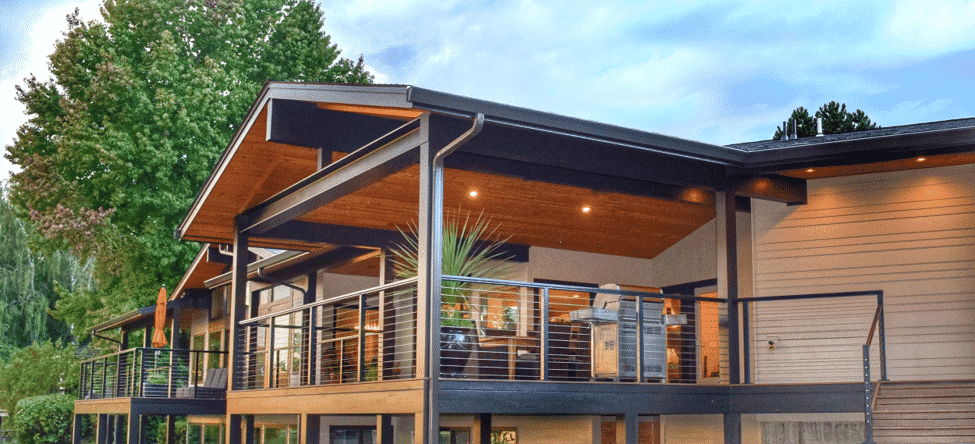 If you're near the ocean, you want to choose a cable railing system that will  stand up to the elements. There are many systems to choose from. With CableFX, you can be confident our system won't corrode in the salty air and will withstand rough weather.
The cables in a cable rail system are most often stainless steel. Stainless steel gets its name from the small amounts of chromium that are added to traditional steel. This makes the product corrosion-resistant. There are several grades of salt-resistant stainless steel. You'll want to make sure your contractor selects one that will last in a challenging climate.
Also, look into the configuration of cable being used. The cable in a cable railing system needs to be under a lot of tension.  You should ensure the cable is durable and unlikely to stretch. A 1X19 cable (that is, 1 cable made-up of 19 strands combined together) will be less prone to stretching than others.
Aluminum or Steel?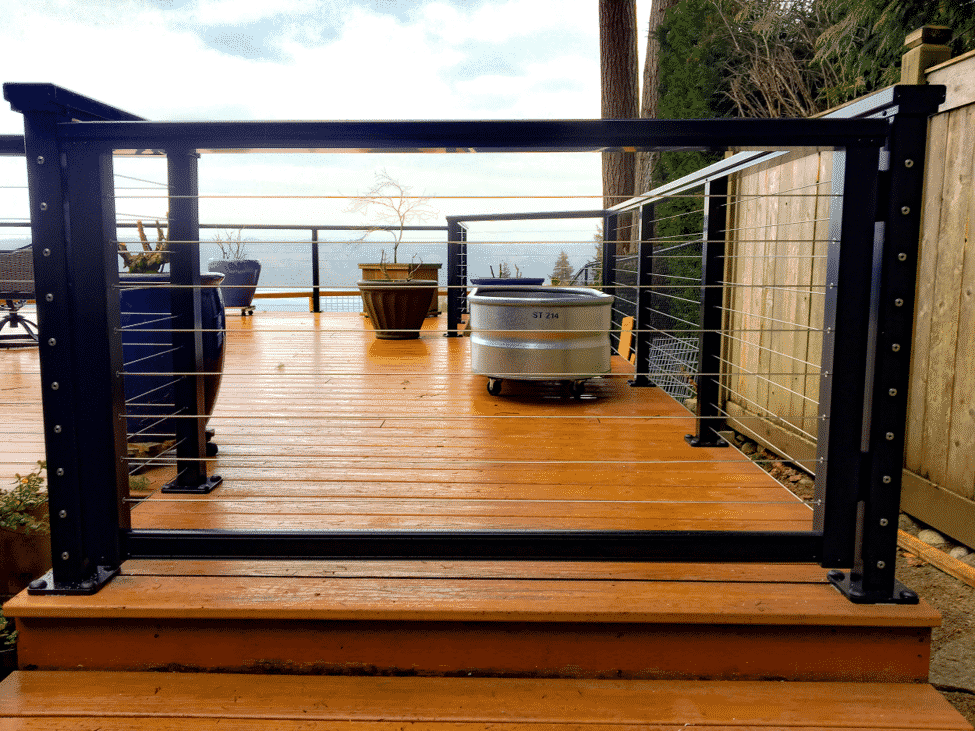 The cables in a cable railing system are generally stainless steel. In contrast, railing posts are made with a variety of materials. In other environments, wood gives a classic rustic feel, but this natural material is not well-suited for coastal environments. For rails contending with high-salt air, homeowners should choose metal posts: either stainless steel or aluminum.
When it comes to deciding between stainless steel or aluminum posts, consider the following factors:
Weight
Cost
Corrosion-resistance
Maintenance
Aluminum is usually the lighter and more economical option of the two. It is much less dense than steel. A typical aluminum post will weigh 7-8 pounds, compared to an 18-20 pound stainless steel post. To withstand the tension of the cable assembly, you may need a thicker aluminum post. It will still be lighter, and ultimately, less expensive than a stainless steel one.
Corrosion Control
For years, stainless steel has been better in regards to corrosion resistance. Although untreated aluminum won't rust the way non-stainless steel does, it can still corrode and pit in salt air. While it can detract from the aesthetic, the white chalky aluminum oxide that forms on raw aluminum can be a good protectant from further rusting. However, modern aluminum cable railing posts are manufactured with aesthetics in tough environments with oceanside homes in mind.
Products like RailFX aluminum posts are pre-treated in a 5-step process to prevent aluminum corrosion.  It improves paint adhesion in the most vulnerable areas, such as where the aluminum has exposed cut edges. RailFX uses an AAMA 2605 paint that is applied with strict guidelines and offers a 10-year warranty. RailFX cable rails use stainless steel hardware which is designed to last.
If you want extra protection, consider coating your railing system with Boeshield T-9®. It's a wax-based formula containing no silicone or Teflon that dries to a waxy finish without leaving a sticky residue. It's a great way to prevent rust and corrosion; plus, it's easy to apply.
Maintaining Cable Railings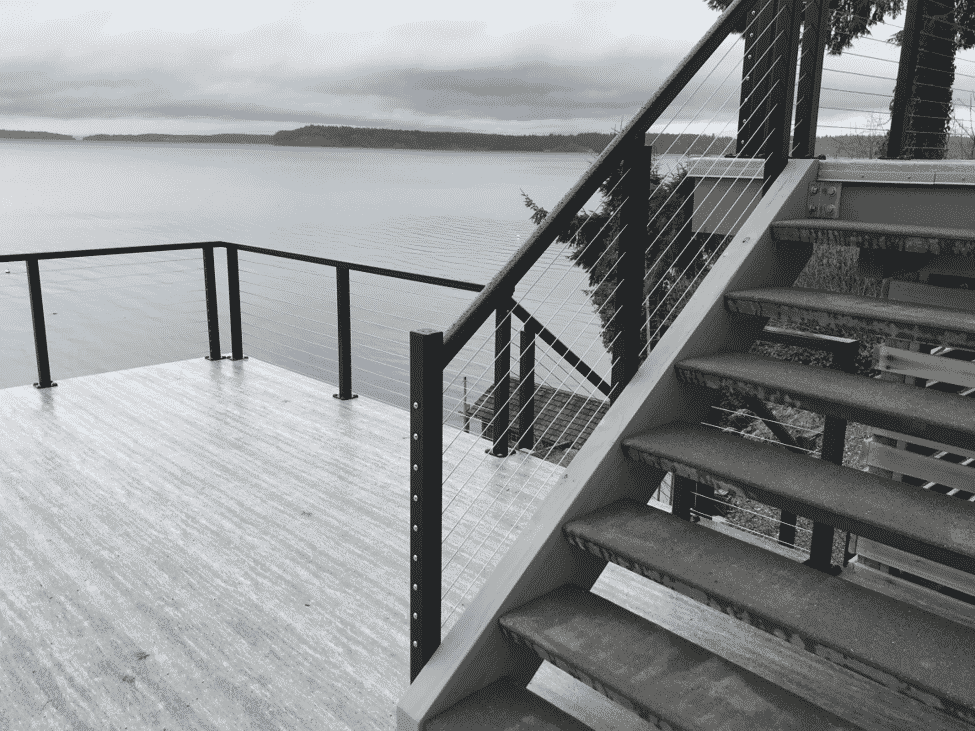 With modern, high-quality materials, homeowners shouldn't have to do significant maintenance.  Keeping their cable railings looking nice and functioning correctly, even close to the ocean, is easy. Because stainless steel can rust, most manufacturers recommend periodic cleaning with water and possibly a mild detergent. Afterwards, do a thorough rinsing.
However, with more coastal areas facing extreme weather, like tropical storms and hurricanes, homeowners need to check on their railings after these events.
Cable railings are high-tension systems, and their lower overall surface areas should protect them during extreme winds. But, after a hurricane or tropical storm, carefully inspect the entire railing system, not just damaged areas. The tension of the cables may pull on other deck components and can create issues down the road. If any posts appear to be loose or twisted, reach out to your contractor.
Cable Railings Cleaning Guidelines
If you choose a RailFX cable railing system, the cleaning guidelines are easy:
Use clean water and a soft cloth for coated surfaces.
Use mild dishwashing soap with water and a soft cloth for stronger cleaning needs.
Remove minor scuff marks or scratches from aluminum posts and rails using a product like Soft Scrub™ (Note: bleach-based products should not be used on stainless steel.)
Do not use strong chemicals, household cleaners, harsh abrasives, etc. This is especially true for bleach or products containing bleach. Bleach will stain and discolor stainless steel quickly and easily.
Remove sap, tree seeds, bugs, etc. as soon as possible as additional sun and heat exposure can make them stick to the coated surface making them more difficult to remove (but not impossible).
Clean glass infills with regular glass cleaner or (made for glass) soap and water.
Always test cleaning products on a small, inconspicuous area before applying any product.
And if you have a question about maintaining your railing system, the RailFX team is happy to help. You can email us at sales@railfx.com or call us at (206) 453-1123.
Ready to Start?
If you're looking to update your deck, or build a new one, a RailFX cable railing system is a great contemporary accent. The system balances aesthetics, safety, and durability, even in corrosive climates.
For more information and inspiration on cable railings, visit the RailFX website.