For years homeowners have redefined the barriers between indoors and outdoors, making it almost a seamless transition. No matter the size of outdoor space, adding interior design cues is key to making the area a complementary and not supplementary space to enjoy.  
Whether designing the outdoor living area in phases or all at once, making a plan or layout is ideal as well as keeping up on new trends that add to the comfort and style. Sticking to a plan ensures homeowners get what they want in the end, and it's cost-effective.
A Focal Point
The majority of outdoor living areas include a deck, patio, or porch. Whatever the size, this area tends to be the focal point of most outdoor gatherings. Today, homeowners have a choice of materials to use underfoot, and they also have a choice of railings. Railings are sometimes an overlooked item but can be one of the more visual things at first glance.
Cable railings, a design element themselves, can accent, elevate and expand a deck, patio, or porch area. Cable railings offer unobstructed views and give a larger and more spacious appearance to any sized area. RailFX offers all-in-one aluminum railing systems and cable railing kits for any project.
To complement the decking and railing focal point, here is a list of considerations for creating an outdoor retreat everyone can appreciate.
Landscaping
Consider adding landscaping and accessories surrounding the outdoor living area beyond plants, flowers, and the lawn. Add a living wall, or planters — practical for vegetable and decorative for flowers — and screens to delineate open and private areas. When planting, think of the color palette moving from indoors to outside.
Water Feature and Fire Pit
An outdoor water feature is not only popular; it's become an essential element in many outdoor design plans and offers a bit of serenity. On Pinterest alone, there are thousands of ideas to scroll through.  
Fire pits are one of the hottest trends in outdoor living. A natural environment for gathering around for conversation or roasting marshmallows and hot dogs, fire pits can be as simple or elaborate as desired.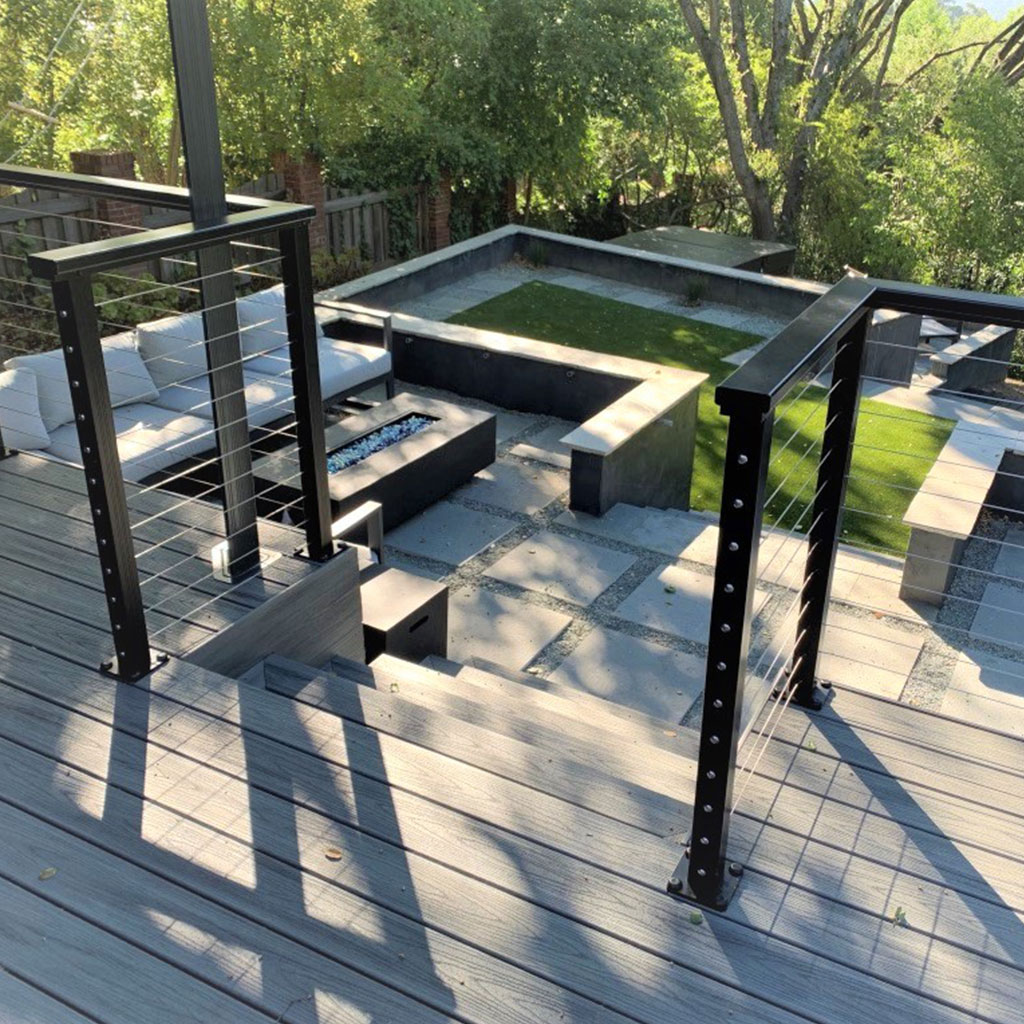 Outdoor Kitchen
While a nice grill fits the bill in most cases, outdoor kitchens with a built-in barbecue or wood-fire grill, exterior-grade appliances like refrigerators, bar area, and countertops are trendy. In most cases, the outdoor kitchen or grilling area are separate spaces because they also require special accommodations like added plumbing and electrical.
Lighting
Strategically placed outdoor lighting allows homeowners to enjoy their outdoor spaces well after the sun has set, but it also allows them to highlight key areas or showcase a pathway.
Covered Areas
It's not uncommon to add a pergola, gazebo, or an arbor to an outdoor living design. Covered structures offer shade and relief from the elements. They also add a design element to the overall landscape.
Today, as more homeowners work and play from home, it's a great time to support deck builders and remodeling contractors with products that expand a homeowner's outdoor space.
Whatever the outdoor area, design railings play a significant role. At RailFX, we have an inspiration gallery of projects that complement any design.