This time of year, many homeowners – especially those who live in climates with a striking change of seasons – begin to think about how they can savor their outdoor spaces for as long as possible. Still, others who enjoy milder conditions are looking for opportunities to refresh their outdoor living area by making simple upgrades. 
In their 2021 Outdoor Living Trends, FIXR.com asked experts in the home construction industry to reveal how homeowners are choosing to use their exterior spaces these days. While the backyard was considered a separate space in the past, it's no surprise that over the past 18 months, people have started to look at their outdoor spaces differently. Nearly 50% of residential outdoor spaces are now being adapted for year-round use.
Below are a few suggestions on how to blend and enhance any home's interior and exterior living areas so they can be enjoyed regardless of the season.
Add a new patio door to create a seamless transition.
What many used to refer to as a "sliding glass door" is now a thing of the past. Those narrow pass-throughs have been replaced with large, collapsible, or bi-parting doors that allow homeowners to blend their indoor and outdoor living settings. Doing so extends social space, delivers a better view, and gives the perception of a more livable area. Find inspiration in these indoor/outdoor combinations shared by Bob Vila. There's sure to be something that will spark an idea.
Transform the traditional deck into a personal retreat.
Decks have become the new "bonus room." According to Deck Specialist homeowners want to use their deck year-round; they expect it reflects their personal style and coordinates with their landscape. The good news? There's a range of options to make this happen. Simple seasonal enhancements like adding furnishings (for example, an outdoor rug, pillows, and blankets) make for an easy transition. More permanent updates such as installing low-voltage or solar lighting are smart upgrades that create a warm setting as the days get shorter and cozy evenings under the stars become the norm. 
In the same way, cable railing from RailFX is an ideal solution for any deck design and  easily complements an existing structure.
Heat things up by adding a fire feature.
Nothing says Fall quite like time spent by a fire. Incorporating a fire feature into creating an outdoor living space creates a welcoming attraction to any deck or patio. The most common features are stone fireplaces and metal fire pits. These days, there is a variety of gas and woodburning options to choose from to fit any budget. The experts at Forbes did their fire pit research and have shared a list of top picks to choose from.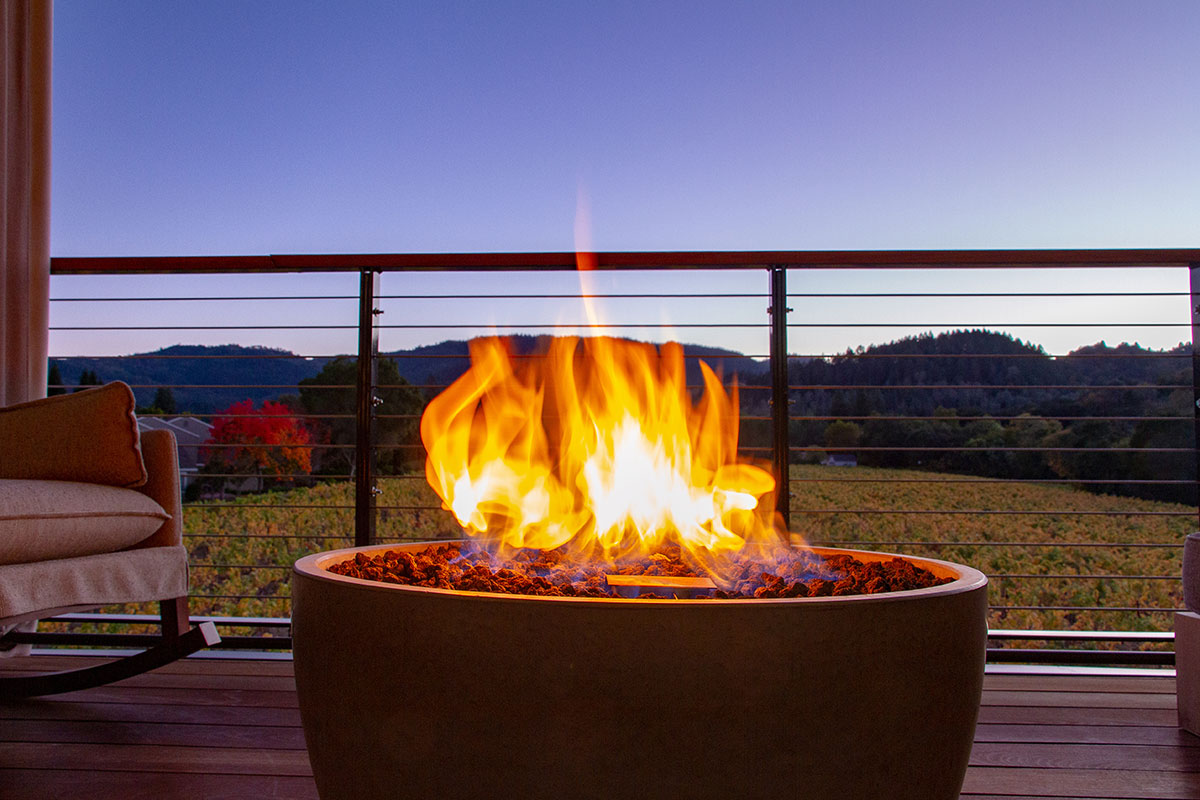 Design a beautiful balcony.
Not every home has a backyard, but that doesn't mean outdoor living is out of the question. A balcony can easily be reimagined to provide an ideal exterior oasis or an additional functional space. Natural materials and sleek, modern textures help to create an open, upscale setting. RailFX's low-maintenance, durable aluminum cable railing system can provide a custom look with clean site lines that help to make a smaller space appear larger and enjoyable all year long.  
Interested in creating an outdoor living space and discovering additional outdoor living features homeowners are craving? Check out this article from our friends at Builder online.