Homeowners have spent a lot more time at home in the last few years and are finding new ways to mingle work and everyday life in their homes. During this extended time indoors, homeowners are altering how their home functions for this next normal. 
Recent studies show DIY improvement projects are on the rise. As more people are working from home, they may be looking at simple and affordable ways to upgrade their interior space. 
Cable railings are a creative and effective way to change the look of a home on the inside. Traditionally used for exterior projects like decks, pedestrian bridges, walkways, and stairways, cable railings can also transform a staircase and landing, loft or balcony, and even hallways into a design statement. 
RailFX® offers the highest quality aluminum railing systems, stainless steel fittings, and stainless-steel cables that work together to create stunning designs for interiors. We also offer cable railing kits that are available in several combinations to accommodate existing posts and design situations, such as interior applications.
Cable Railings Indoors: Making an Entrance
A staircase is, oftentimes, the first thing you see when you enter someone's home. It can be a design focal point or just another ordinary staircase. While railings offer safety, they can also dress up an otherwise functional space. A great staircase and a great railing go hand-in-hand. 
Cable railings offer homeowners the opportunity to accessorize ordinary and practical parts of the inside of their homes. It can change the entire look of an entryway. The use of cable railings can also blend in or stand out with just about any style of home and offers homeowners a simple and efficient way to upgrade and personalize their living space.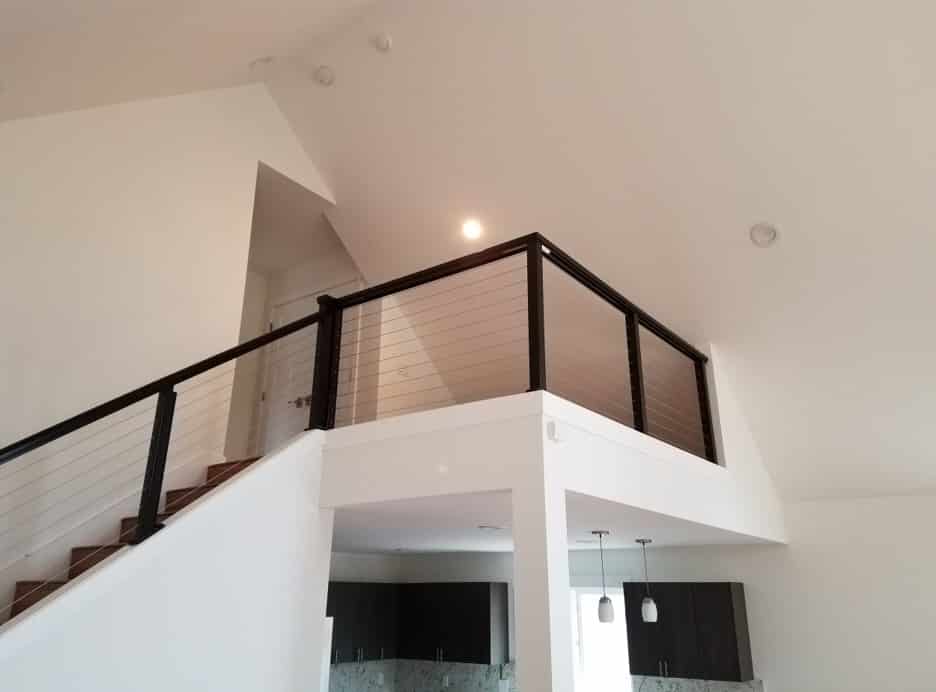 Lofty Goals
Lofts or balconies offer open space and most often function as an all-purpose area for families with play areas, media rooms, home office, or a workout area. Many lofts and balconies are separated from the rest of the home and don't have an open feeling. 
Cable railings are a great way to open up the area and make the loft area feel part of the whole home experience. The installation is also similar to an exterior decking application.
Passing Through
Hallways, landings, and other small and enclosed areas in the home are narrow and can feel cut-off or just a path to pass through. By installing cable railings in these key areas, the area will offer an openness of the space with unobstructed views never thought possible by traditional building materials. 
Opening up second-story hallways and landings may offer homeowners a more natural light and outdoor view and also a view of pictures or artwork normally only seen from one viewpoint. It offers homeowners a way to showcase their personal style.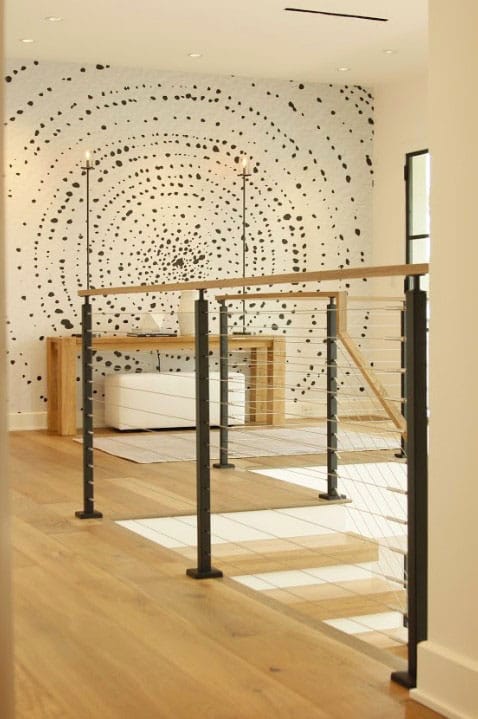 Interior Solutions – Easy as 1-2-3
Our FlexFX® program offers stainless fittings and cables for use with wood, metal, or sleeved end posts. So, no matter the style of the home — traditional, contemporary, or modern — homeowners can create any railing design with FlexFX stainless steel fitting and cable to fit their style.
Installation on-site is easy with the exclusive Push-Lock® fittings, which do not require any special tools. Simply push the cable into the fitting and it locks. The cable can be cut and inserted into the hardware easily and fittings screw into the posts.
Ordering Made Simple
RailFX has a simple online quoting system with a step-by-step process. Now, faster lead times are possible with FlexFX, cable railing kits, and aluminum railing systems. Quotes are turned around in 48 hours, and products (stock colors) shipped within three to five days to any location in protective packaging.